Recap event – Gen Z Integration – Career Choose People Or People Choose Careers – SBS x Truong Vinh Ky Intercollegiate School
15/02/2023
Last February 9, 2023, at Truong Vinh Ky School, the event GENZ Integrate "CAREER CHOOSE PEOPLE OR CHOOSE CHOOSE" co-organized by Saigon SBS Business School, Truong Vinh Ky School and TNT Education. went well successfully. The event gives Year 12 students useful sharing about the skills to choose the right major for themselves.
This is a special event organized by SBS exclusively for high school students at high schools across the country. Participating in the event, students will have the opportunity to listen to the sharing related to the issue of choosing a major, choosing a career, including:
How to choose the right major?

What to do if you have chosen the wrong major?

How does globalization affect career choices?
It was an honorable event when Mr. Hoang Van Cuong and Mr. David Armstrong were present, bringing interesting knowledge to grade 12 students. Especially, Mr. Hoang Van Cuong had a long sharing session and answered questions about the problems. problems that final students often face. He had given many practical sharing so that you can draw your own lessons. Thereby also showing the importance of choosing the right profession to study. In the context of increasingly modern life and machines are gradually replacing the position of humans, determining the right major is the first step for you to integrate with the development speed of life. 
With the goal of orienting young people about their major, to have the most intuitive view for the future. Both Mr. Hoang Van Cuong and the event organizers were extremely dedicated to bringing out the aspects that you guys missed. To achieve that goal, the speakers made every effort to convey all the messages about the importance of "choosing a career" in a short time.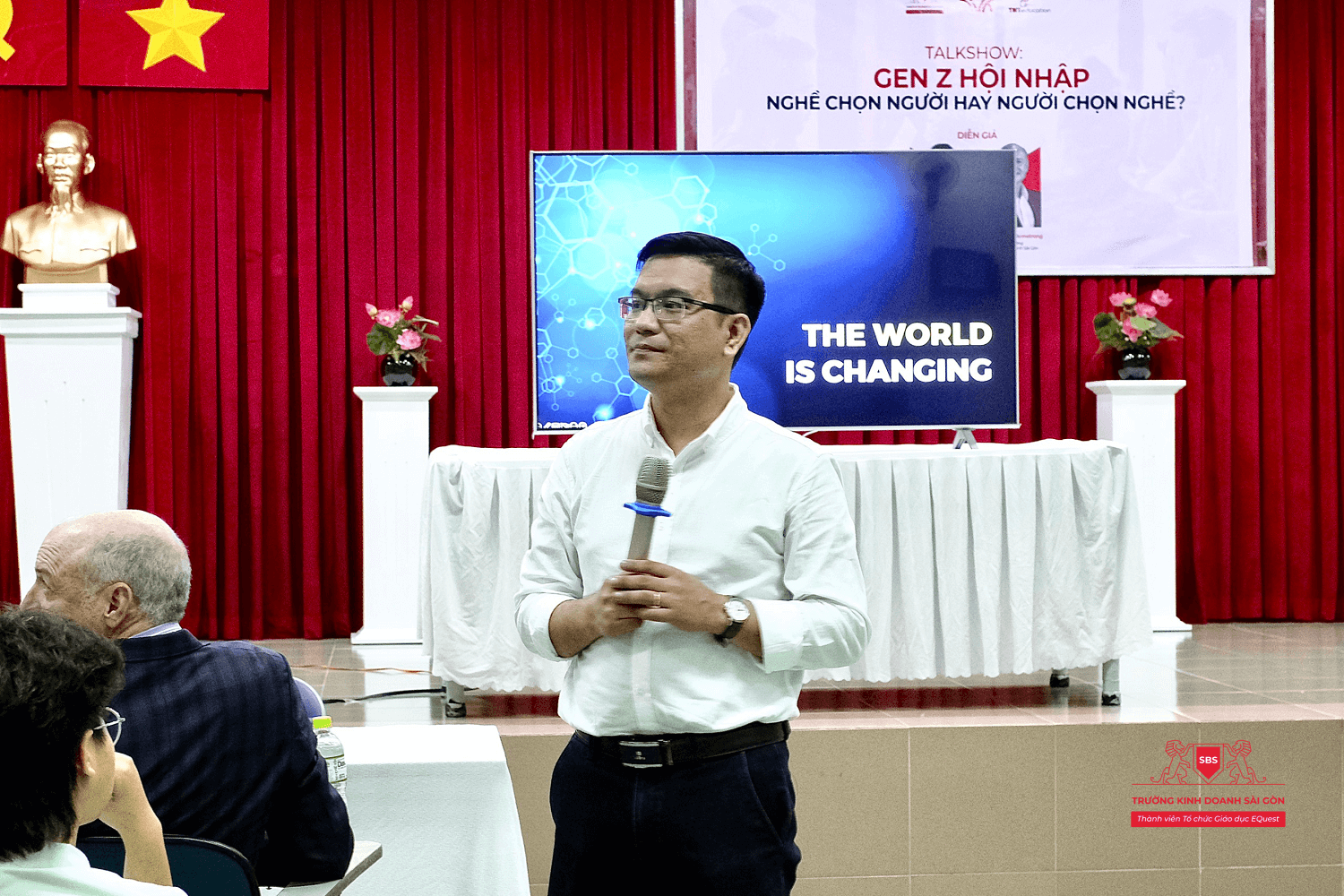 Following the sharing from Mr. David Armstrong, Mr. Hoang Van Cuong also expressed his wish that young people should pay more attention to learning foreign languages. And it should be used as a tool to learn and communicate, not to be afraid of being wrong or faltering. It is the bridge, the key for communication. We not only learn what's around us but also have to be exposed to another environment. 
In addition, sharing about the current education system has also improved. Schools with international joint programs are also a good choice at the moment. Cultural immigration, especially from English-speaking countries, presents new opportunities and challenges for GenZ. The event gave students an overview of the current integration. Therefore, the affiliate training program at SBS at this time, although new, has great potential. Studying abroad is no longer strange when it is right here, within our reach.
With his many years of experience in the field of education, Mr. Cuong has shared his professional knowledge to help students best grasp their own strengths. Knowing yourself is the best way to guide the future. Standing from GenZ's perspective on 4.0 technology, there will be unexploited perspectives. In addition, choosing a field of study indiscriminately is also extremely risky when GenZ has not learned those specialties well. You also need someone to guide and guide you to stay on your own path. And that is the power of education
n response to Mr. Cuong's sharing, the students also actively asked questions to answer questions. Their concerns were all common problems that most of your age group face. Mr. Hoang Van Cuong shared in the most humorous and intimate way so that students could understand the problem clearly. 
Sự kiện còn có sự góp mặt của đại diện trường Trương Vĩnh ký – thầy Vũ Văn Đình. Thầy đã có những chia sẻ về niềm tin vào hệ thống giáo dục mới của SBS, tin rằng trong tương lai không xa hệ thống liên kết này sẽ phát triển hơn. Ngoài ra, thầy cũng mong rằng các bạn học sinh cố gắng trong kì thi sắp đến và có những lựa chọn nghề nghiệp đúng đắn.
Next was the speech of the representative from TNT Education – Mr. Dinh Thien Phuc also sent his best wishes to the 12th grade students. Many years of working in the field of foreign languages, Mr. Dinh Thien Phuc shared about mission of the young generation in connecting with friends from 5 continents.
And near the end of the program is a lucky draw minigame activity for students. Souvenirs are extremely useful items for seniors such as cups of water, notebooks, etc.
The event organizer would like to thank Truong Vinh Ky School and TNT Education for accompanying throughout the event. SBS is a real business training school in Ho Chi Minh City. This is the first choice for those who want to experience the international environment in general and study abroad in particular. 
Through the event, we hope that the 12th graders have had the necessary experience about their upcoming career orientation. And we also wishes you all the best and the most favorable exam season!