SBS TechTalk: DATA SCIENCE FROM A TO genZ
23/08/2023
Data science is always an extremely hot field of study for students who want to pursue the information technology field. For large businesses, all decisions need to be based on data, so positions in data collection, analysis and processing will certainly be very promising in terms of attractive income, work opportunities, and development. developed both domestically and internationally.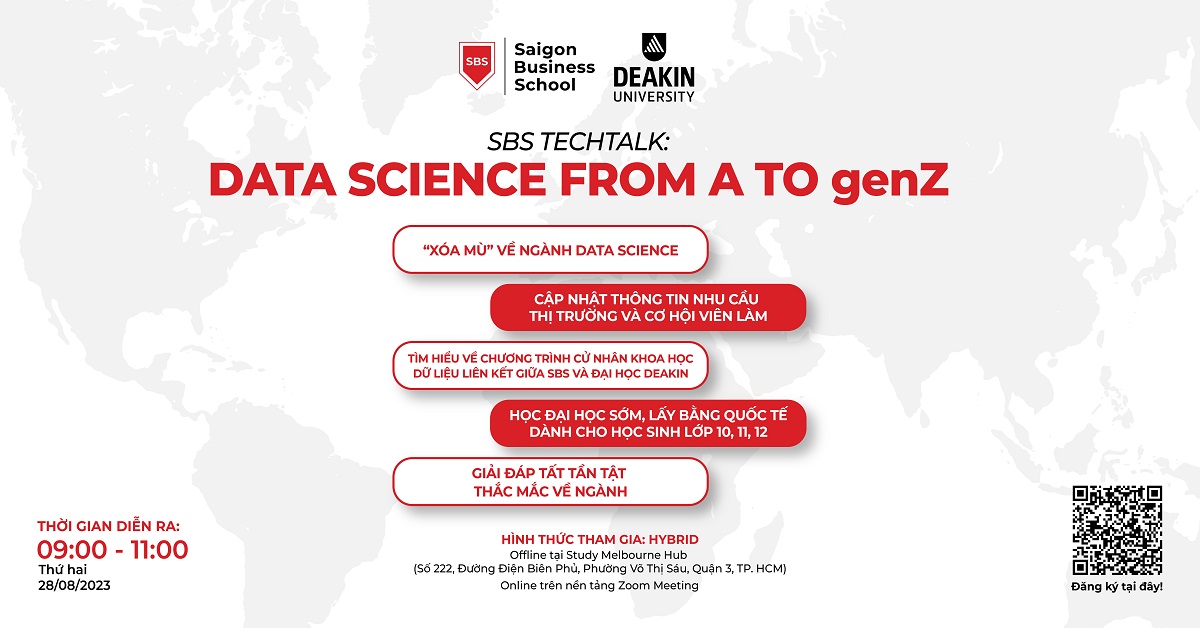 SBS TechTalk: Data Science from A to genZ
Don't wait until you go to college to learn about Data ScienceHigh school students don't miss out either SBS TechTalk to get:
"Eradicate illiteracy" about data science for genZ

Update market demand information and domestic and international job opportunities

Learn about the full-time bachelor's program in data science (collaboration between SBS and Deakin University, Australia - Top 100 information technology industry in the world)
Special: Open up early university study opportunities for students graded 10, 11, and 12 - get an international certificate issued by EQuest - the largest foreign-invested private education group in Vietnam.
Accompanying this workshop are 2 speakers who will answer all questions about the industry:
Dr. Nguyen Duc Thanh - Senior Lecturer in Computer Science at Deakin University

Mr. Hoang Van Cuong – Executive Director of Saigon Business School
 The number of registrations is limited, register quickly to have the opportunity to "Eradicate illiteracy" in the Data Science industry!!!
DETAILS:
Time: 09:00 – 11:00, Monday August 28, 2023
Target audience: Students in grades 10, 11, 12 and recent high school graduates interested in Data Science
Form: Online & Offline
Offline at Study Melbourne Hub – 222 D. Dien Bien Phu, Vo Thi Sau, District 3, Ho Chi Minh City
Online on Zoom
Registration link: https://bit.ly/SBS_Deakin_DataScience 
–
AGENDA:
9:00 – 9:10: Welcome speech and introduction to Study Melbourne Hub

9:10 – 9:15: Introduce the speaker and workshop topic

9:15 – 9:45: Speaker sharing: Overview

of Deakin School of Information Technology

và ngành Data Science 

9:45 – 10:00: Q&A

10:00 – 10:20: Scholarship opportunities and student support at Deakin

10:20 – 10:40: Introduction to Data Science at SBS

10:40 – 11:00 Q&A
—
ABOUT DEAKIN UNIVERISTY
Top 1% of the best universities in the world
Top 50 Under 50: Top 50 best young universities (under 50 years old) in the world
Top 100 in the world in Computer Science, Engineering and Technology
—
ABOUT SAIGON BUSINESS SCHOOL
Saigon Business School (SBS) is a member unit of EQUEST Education Organization, specializing in providing undergraduate and graduate programs in Business Administration, Marketing and Data Science based on affiliated with universities in the top 3% of the world. Accordingly, students will study the first 1-2 years in Vietnam, then choose to continue studying in Vietnam or transfer to study the next 1-2 years at one of the foreign schools in Canada, Singapore, Australia, UK. and receive diplomas at these prestigious international schools.
SBS & Deakin's program is one of the very few formal training programs at the bachelor's level in Data Science in Vietnam, a combination of one of Australia's top universities, ranked in the top 100 in the world in Science, Technology, and Technology with one side being a new, modern business training school, belonging to the largest educational group in Vietnam. Students will not only have a deep foundation in technology and data but also have a business mindset to penetrate reality.