Recap Global Talk 2 – Genz EZ Study Abroad: Start Your Journey To Canada With SBS X University Canada West X Laurel Consult!
15/02/2023
On January 23, 2023, Saigon Business School (SBS) organized the 2nd Global Talk event to support students in their study and settlement journey in Canada. The event was co-organized with University Canada West (UCW) and the study abroad and settlement consulting company Laurel Consult. The event was led by two speakers: Ms. Phuong Chu - Founder & CEO - Nguyet Que Study Abroad and Settlement Consulting Company (Laurel Consult) and Ms. Hoa Nguyen - Business Development Manager - University Admissions Manager Canada West (Vancouver) in Vietnam.
The first part reveals interesting information about Canada
Overview of studying in Canada
Ms. Phuong Chu opened the event by giving an overview of studying in Canada. Canada is known for its high-quality education, friendly community, and diverse culture. Studying in Canada provides students with a globally recognized degree and exposure to a multicultural society. Canada is also a safe country with a high standard of living making it an ideal destination for international students.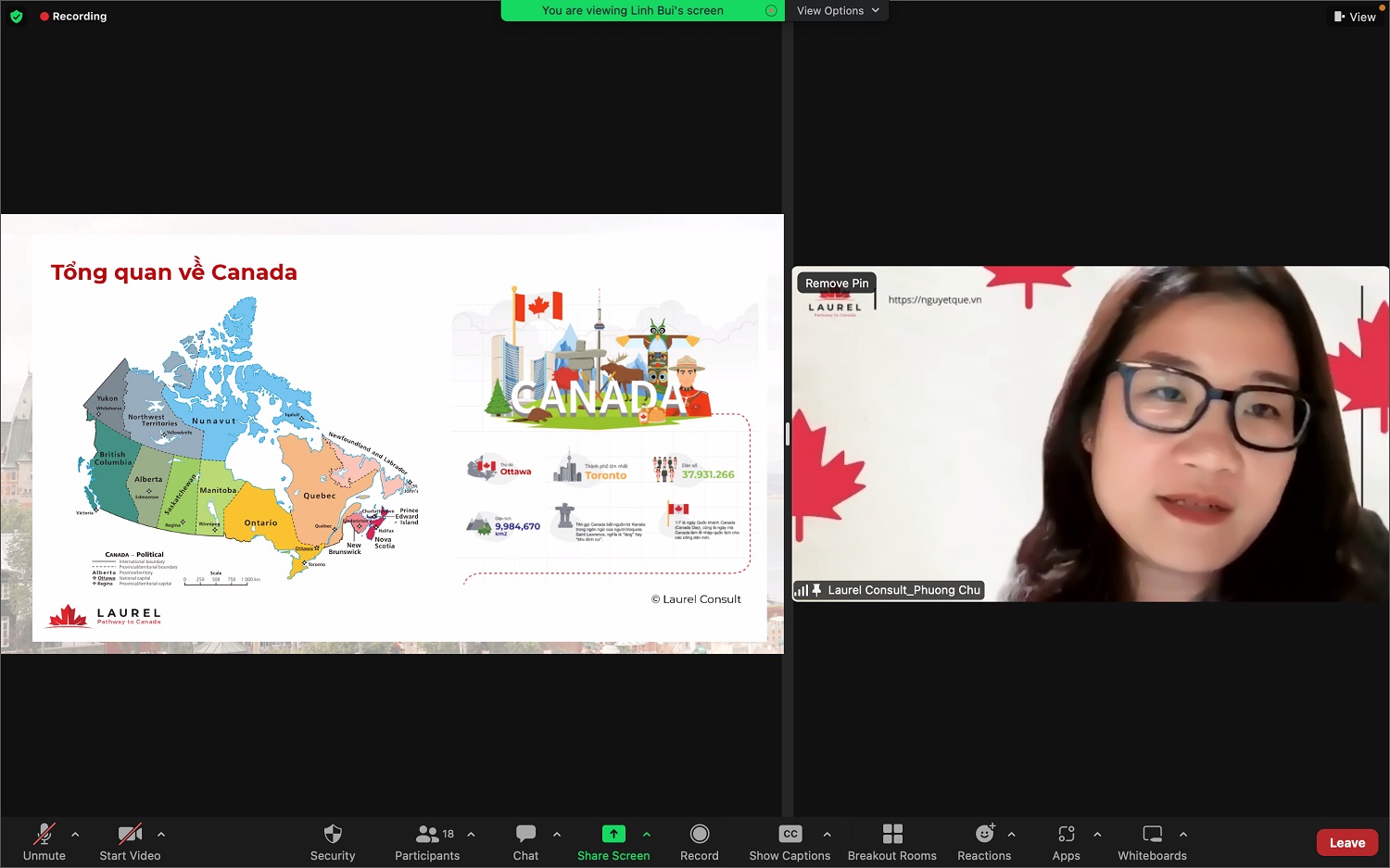 Regulations on part-time work for international students
International students in Canada can work up to 20 hours per week during their studies and full-time during breaks. Part-time work can give students the opportunity to earn money, gain work experience and improve their language skills. Ms. Phuong emphasized the importance of balancing work and study to ensure academic success.
Road to becoming a permanent resident after graduation
Canada offers international students the opportunity to become permanent residents upon graduation. Students can apply for permanent residence through various programs such as the Canadian Experience Class, Express Entry, and the Provincial or federal Program. Ms. Phuong advises students to plan early and be prepared to meet the requirements of the program of their choice.
Important sharing about University of Canada West 
About University Canada West 
At the end of Ms. Phuong's sharing, Ms. Hoa Nguyen then shared about University of Canada West (UCW), a business university located in Vancouver. The information that Ms. Hoa brought to the event attracted many attendees and asked many questions about Canada West University. 
Program Outline
UCW is known for its practical and industry-relevant programs, and small class sizes that can focus on individual student support. Ms. Hoa discussed the training program offered at UCW. The school offers undergraduate and graduate programs in business, the arts and sciences, and management. Programs are designed to provide students with the skills and knowledge needed to succeed in their chosen field.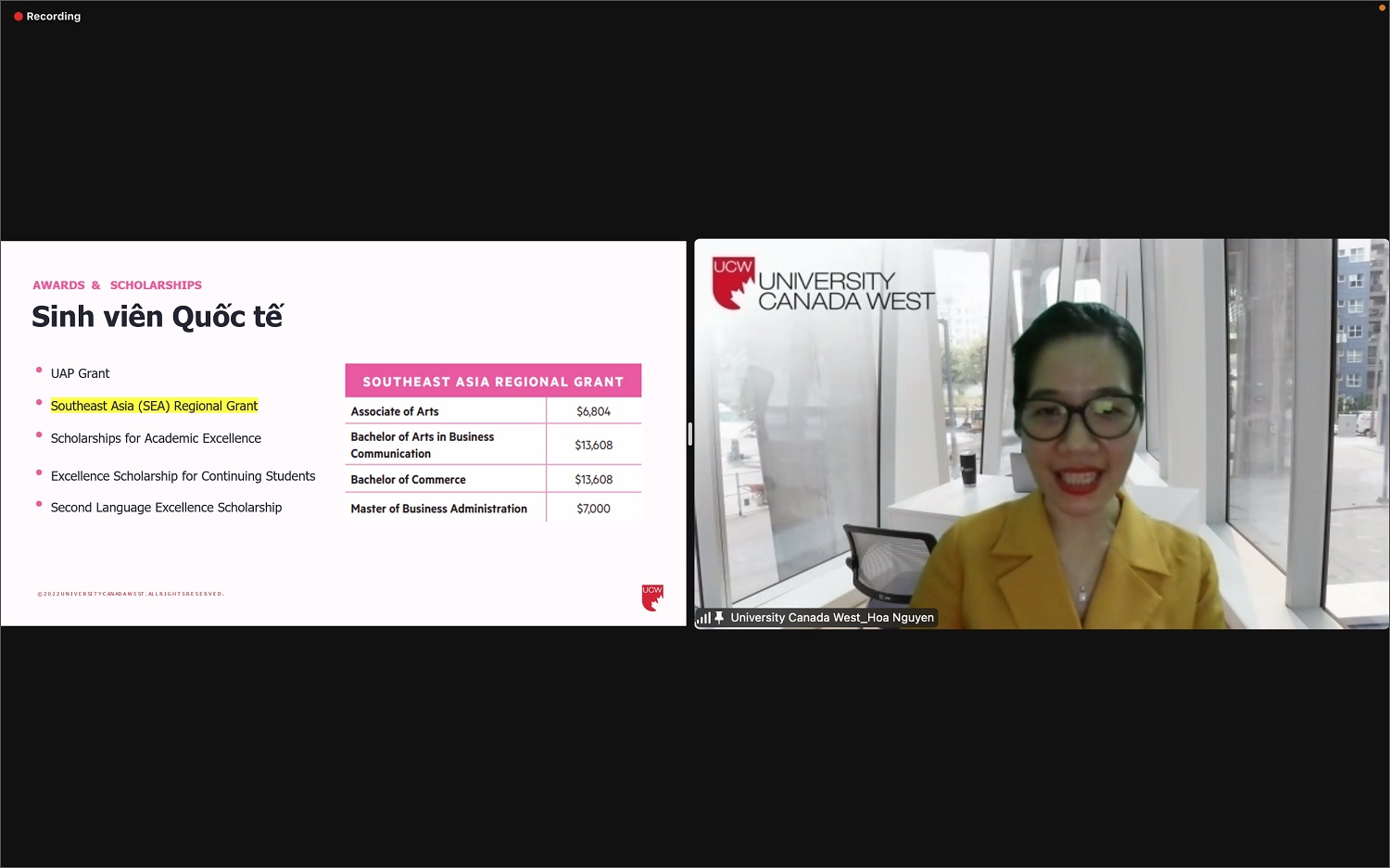 Student support
Ms. Hoa then discussed the student support provided by UCW. The university provides students with personalized support through academic advising, tutoring and mentoring programs. The university also has an international student services team that provides assistance with immigration, housing and health insurance.
Job opportunity
Vancouver is an economic and financial center, offering students many job opportunities in large enterprises in different business fields. UCW also has a dedicated career services team that assists students with job search, resume writing, and interview preparation. Our students are highly regarded by employers for their skills and knowledge.
Campus
The university is located in downtown Vancouver, providing students with easy access to a variety of amenities and attractions. The campus is beautiful, equipped with modern facilities, and provides students with a conducive learning environment.
Interaction between speakers and event attendees
After the presentation, the speakers answered questions from the attendees. The questions focus on different aspects of studying in Canada and the scholarship programs offered by UCW. The speakers provided valuable insights and advice to the participants, helping them make informed decisions about their education and careers.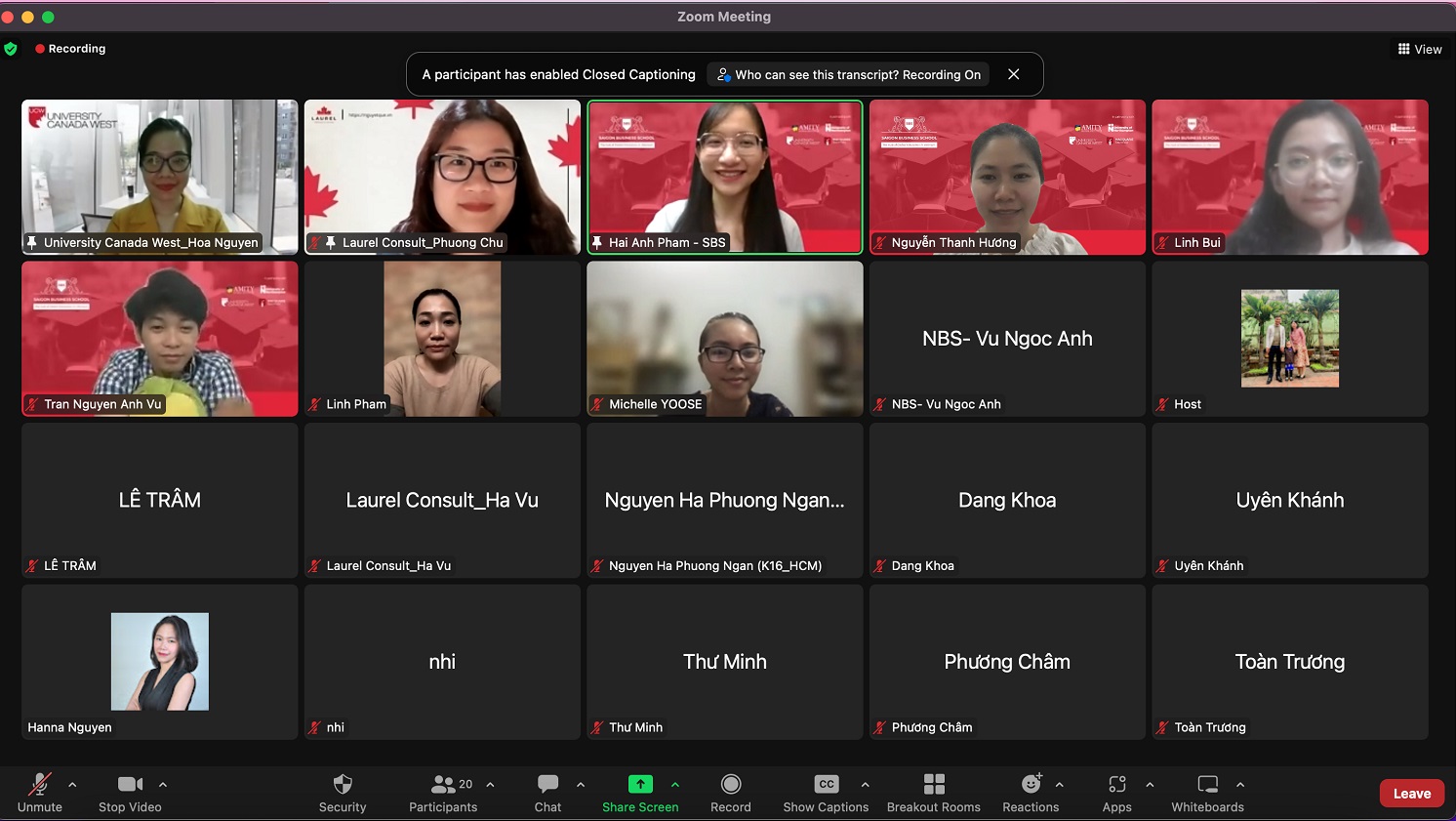 In summary, the Global Talk event organized by SBS, in cooperation with UCW and Laurel Consult, is a valuable source of information for students who want to study and settle in Vietnam. Canada. The event provides detailed information about UCW's part-time work regulations, pathway to permanent residency, training programs, student support, job opportunities, and campus. The event also provided an opportunity for participants to ask questions and receive valuable insights and advice from the speakers. Overall, the event was a great success and a testament to SBS's commitment to providing students with valuable knowledge. If you still have questions about studying Canada, please contact SBS via email info@sbsedu.vn for a free consultation.